The Fiji Australia Business Council (FABC) and Australia Fiji Business Council (AFBC) formally launched their highly anticipated 2022 Fiji Australia and Australia Fiji Business Councils Joint Forum to be held at the Intercontinental Fiji Golf Resort and Spa in Natadola from 1-3 September. Not only did FABC complete their sponsorship targets in the past month, they also signed their media partnerships this week with FBC and The Fiji Times.
2022 marks 35 years since the first bilateral event when government representatives and members of the private sector from Fiji and Australia met to confer on how they can jointly contribute to the bilateral relationship and economic growth. Sister councils, Fiji Australia Business Council (FABC) and Australia Fiji Business Council (AFBC) have been annually organising and co-hosting such forums since then, however, due to the COVID pandemic, the 2022 Fiji Australia Business Forum is the first such forum since 2019.
With all sponsorship spots filled, key media partnerships signed, and high-profile speakers confirmed, FABC is confident that they will have over 120 delegates at the forum. Invitations to register for early bird registrations were circulated in June to FABC and AFBC members, which ended on 9th July. Full rate registrations are open now to all until 6th August.
"We have invited senior members of both governments, as well as industry and investment experts with a focus on the prevailing Fijian and Australian bilateral business and economic environment to speak at the forum. Needless to say, as a Council we are very much looking forward to forum delegates strengthening their business connections, improving their understanding of the opportunities and challenges of business between Fiji and Australia, and enhancing the bilateral business and investment relationship between both countries," says FABC President Warwick Pleass.
Valued at approximately AUD 1.47 billion in 2019, Australia is a huge source of foreign investment in Fiji with the largest sectors being tourism, the financial sector, and manufacturing. With the forum theme, Vuvale – The New Paradigm, it is expected that issues in business process outsourcing (BPO), building and construction, agribusiness, capital works, infrastructure, food and beverage, and ICT products and services including back office and remote services, will be discussed with stronger connections and solutions being forged at the forum.
FABC thanks all the generous sponsors and partners who are supporting the joint business forum; Digicel, Westpac, Swire Shipping, Value City, Vaiwai Natural Artesian Water, Comfort Home Furnishing, Fiji Broadcasting Corporation and The Fiji Times. 
Register now for the 2022 Fiji Australia Business forum before seats run out: Visit https://fabc.com.fj/event/2022fabf/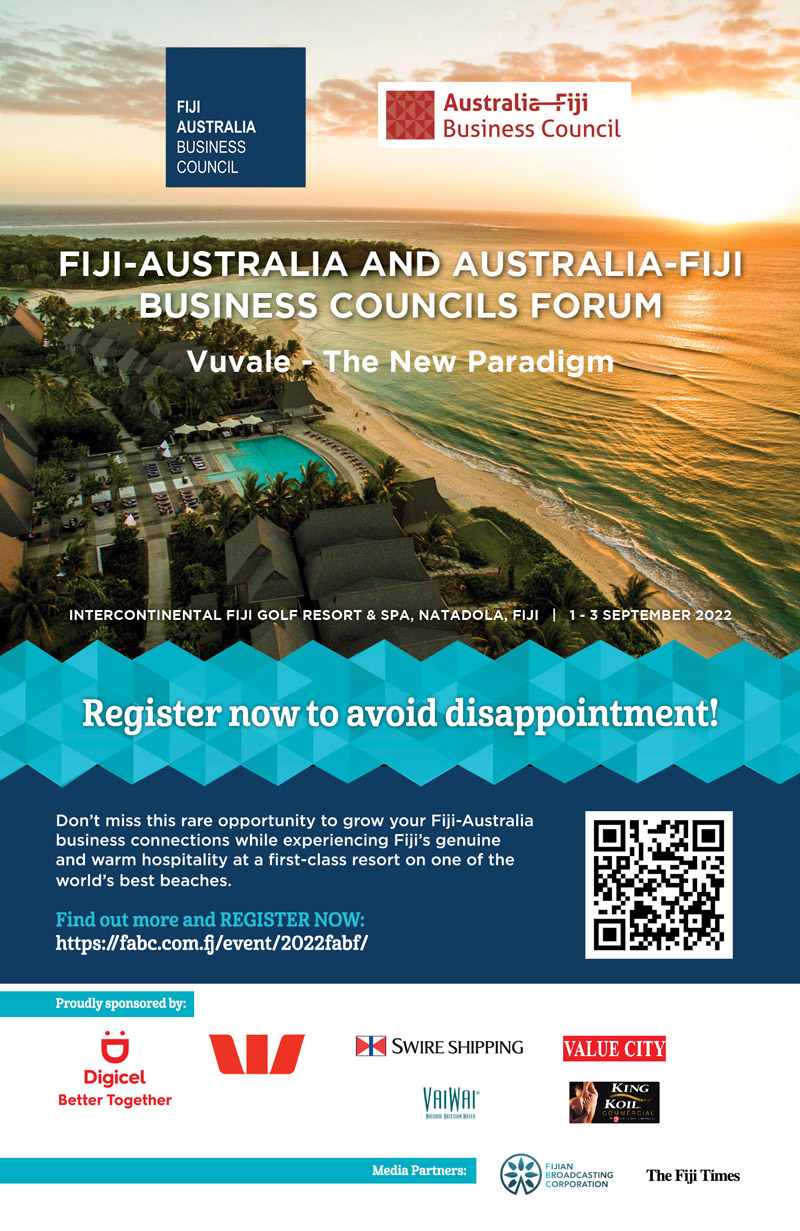 ---
About Fiji Australia Business Council (FABC):
FABC promotes friendship, goodwill and understanding between the business communities
of Fiji and Australia to encourage trade, investment, tourism, technical and economic cooperation. The Fiji Australia Business Council is a dynamic organisation growing from strength to strength and is proud to celebrate 36 years in 2022.
For more information visit fabc.com.fj
Follow us on Twitter @FABCouncil, Facebook @FABCouncil and Linkedin @FABCouncil
Follow the event #2022FABF
About Australia Fiji Business Council (AFBC):
The Australia Fiji Business Council, with its counterpart organisation in Fiji the Fiji Australia
Business Council, was established in 1986 with the aim of providing a framework within which the private sector can communicate with the Australia and Fiji Islands governments at the highest political and policy advising levels with a view to finding solutions to trade and investments issues involving the two countries.
For more information visit afbc.org.au
Media contact:
Maria Ronna Luna Pastorizo-Sekiguchi   |   Email: ronna@greenhousefiji.com   |   Mobile: +679 7888400